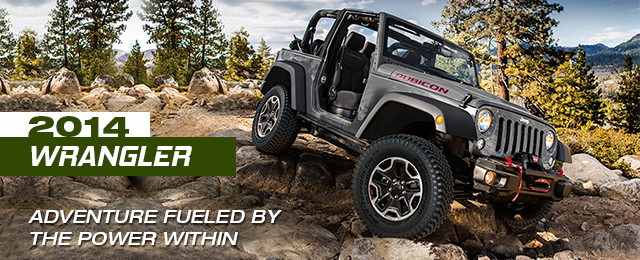 New Inventory | Apply For Financing
2014 Jeep Wrangler
The 2014 Jeep Wrangler is definitely a vehicle that excels when the pavement ends. This no-nonsense vehicle can cross streams, plow through sand dunes, and climb over steep rocks- all thanks to its classic   four-wheel drive transmission. Few cross SUVs offer as dominant a price, and the Jeep Wrangler is one of the better utility vehicles that you   can purchase today.
Performance and Fuel Economy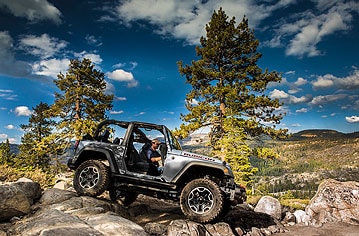 The Jeep Wrangler comes equipped with a V6, 3.6-liter engine that   produces about 285HP. Four-wheel drive transmissions are standard, and drivers in Daytona Dodge FL will be capable of towing about 3,500 pounds   (the two-door model can tow only about 2,000 pounds). Hill-descent   controls and hill-start assist amenities are also available, which should help make navigating rough terrain a little easier.
During testing, the two-door vehicle was able to go from zero to 60MPH   in about 7.1 seconds, which is quite quick for a heavier SUV. Voted Best   4x4 Vehicle Of The Decade by Four Wheeler Magazine, the Wrangler   Rubicon is equipped with Tru-Lok® Electronically Locking Differentials, Mud Terrain Tires, the Rock-Trac® Transfer Case, a 4:1 Low-Range Ratio and Rock Rails. A 73.1:1 Crawl Ratio with the manual transmission lets you cruise up rocks to places that others only dream of reaching.
Body Styles and Trim Levels
The 2014 Jeep Wrangler comes in Rubicon, Sahara, and Sport trim options. The Sport edition comes with rear tow hooks, crank windows, cruise   control, 16-inch steel wheels, and an abundance of steering controls.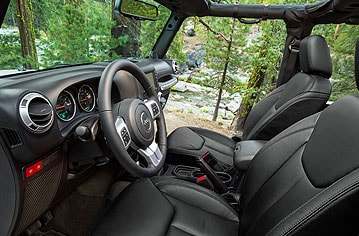 Exterior Design
From   the outside, it will definitely be difficult to mistake the Jeep   Wrangler for any other vehicle. Aside from sporting a highly unique look, it has a heritage that carries as far back as the original "Willys" Jeep. To put simply, there aren't many vehicles that look like   it on the road today. Basically, very little has changed about the   exterior appearance of the Jeep Wrangler over the past several years. 
It boasts trapezoid-shaped wheel flares, a grille with seven slots, and flat sides. Its military heritage can definitely be seen, and resembles the older models which used to have removable doors along with external door hinges. Keep in mind that where the Wrangler shines is when it is off of the pavement. It is incredibly versatile, and can trek its way through sand, mud, and snow with ease- which is everything you could ever ask for in an SUV.
Interior Design
There's no hiding the fact that the interior of the Jeep Wrangler is designed to provide practicality over comfort. It's durable, lean, and can spend days in the elements without eroding or experiencing damage. Despite this, it offers a visually attractive look with plenty of fluid, rounded lines.
This two-door model comes with a backseat that is capable of holding two passengers. Cargo room for the 2014 Jeep Wrangler is just under 14 cubic feet, but other editions are able to offer close to 32 cubic feet. When the rear seats are folded, this number jumps up   dramatically to 55.8 cubic feet for two-door models. 
Safety Features
There are a profusion of safety features that come with the 2014 Jeep Wrangler. The more prominent ones include: 
Stability control 
Traction control 
Antilock disc brakes 
Hill start assist 
Front airbags
Front side airbags are also an option for Palm Coast FL drivers. During testing, the vehicle was able to stop from 60MPH in about 140 feet. While this is slightly worse than average, it is important to note that the Wrangler's level of protection is descent considering the vehicle's level of durability.
Overall Driving Impression
If your goal is to scour off-road trailers, it can be difficult to do better than the 2014 Jeep Wrangler. The Rubicon trim is highly recommended for this, all thanks to its high-tech and specialized features. 
Overall, be prepared to experience a more connected form of driving, one that will make you feel alive and wanting to experience adventure and excitement. That is what makes the 2014 Jeep Wrangler so impressive and special.