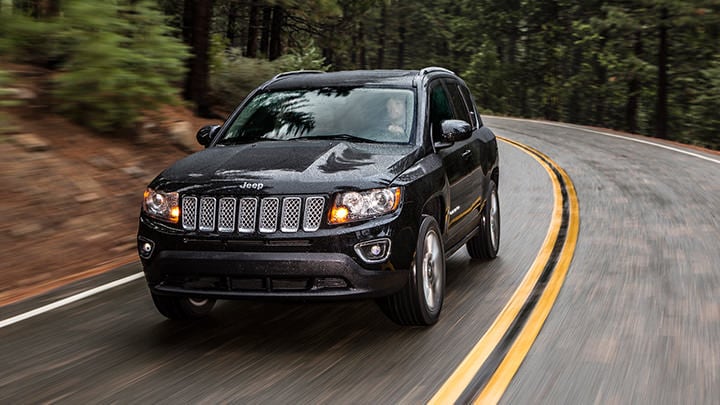 2014 Jeep Compass in Daytona Beach, FL
Citizens of Daytona Beach, FL are in constant search for a rush. From experiencing the Daytona National Speedway racetrack to spending all day conquering the waves; the people thrive on adrenaline. The Dodge, Chrysler, Jeep and Ram dealership is enabling citizens of Daytona Beach, FL, as well as Deland and Palm Coast, the ability to fuel their inner adrenaline junky with the new 2014 Jeep Compass. The Jeep Compass's interior and exterior are beautifully crafted to look graceful, but do not let that fool you. When the Jeep Compass turns on its engine, ferocity is revealed. This beast is installed with the latest technology and of course safety features in order to ensure your inner junky the joy ride of a lifetime. It is time to run down to our Daytona Dodge Chrysler Jeep Ram dealership to finally live the experience you've been waiting for.
Take a moment to inhale the sweet smell of new fabric and view the wonderful satin chrome accents before you snuggle up in the cozy, heated seats. Now prepare for the howl of the four cylinder 2.0L DOHC engine, as the Jeep Compass awakens. The Jeep Compass can output 141 lb-ft of torque; enough power to make you want to drive to Deland, FL and then all the way to Palm Coast, FL all day.
Driving a Jeep and not going off road would be a disgrace to the vehicle; which is why the Jeep Compass has been installed with the latest features, so that you can attack anything in your path. The Jeep Compass has all weather capability. It can handle the most difficult road situations from: deep snow, mud, and even 19 inches of water. The Compass also has up to date smart brakes. These brakes are able to automatically lock certain wheels whenever they detect any traction problems. This allows you to go on the craziest paths and not lose control. One of the newest features the Jeep Compass provides is the Hill Descent Control (HDC) this system monitors the throttle, speed, and brakes.
Obviously, an adrenaline junky cannot plan out a day full of adventures without their favorite toys! The Jeep Compass has a capability to tow up to 2,000 pounds. This lets you bring your favorite motorcycles, boats, folding camping trailers and much more! Part of this ability is thanks to the muscular build of the exterior. The Jeep Compass has an all-weather strength accented with elegant details so you can have fun in style.
2014 Jeep Compass Features
Automatic temperature controls
Uconnect Media System
40 GB hard drive
9 Boston Acoustic speakers
368 Watt sound system with subwoofer
Hands-free Bluetooth®
Electronic Vehicle Information Center (EVIC)
Jeep Compass Safety Feature
Even if someone is looking for an adrenaline rush they know to put safety first. The Jeep Compass is up-to-the-minute when it comes to safety, but it does not get in the way of giving you what you want. The Jeep Compass has six multi-staged driver and passenger airbags. This includes the new standard side airbags. The brilliant engineers of the Jeep Compass created crush zones. These zones are engineered in the front and side of your vehicle, so if in any type of collision the energy of the impact is decreased before reaching the passengers. The Electronic Stability Control (ESC) senses when you are under steering or over steering and notifies you immediately. The Jeep Compass also includes an Antilock 4-wheel disc brake system. The system decreases slipping distance on dry or slippery surfaces. So if you get the urge to make a trip from Daytona to Deland to Palm Coast there's no need to worry about the weather because the Jeep Compass has everything under control.
Buy or Lease the 2014 Jeep Compass in Daytona Beach, FL
Head on over to Daytona Beach, Florida's Dodge Chrysler Jeep Ram dealership to test the 2014 Jeep Compass. This monstrous vehicle is a guaranteed thrill. So do not hesitate in fulfilling your need of excitement.
Please contact us here at the Daytona Dodge, Chrysler, Jeep, and Ram dealership or get directions. You can also browse through our vehicle inventory of new and used cars. Our Daytona Dodge, Jeep, Chrysler, and Ram dealership will help you unleash your inner adrenaline junky with the new 2014 Jeep Compass.
Written By: Randy Dye