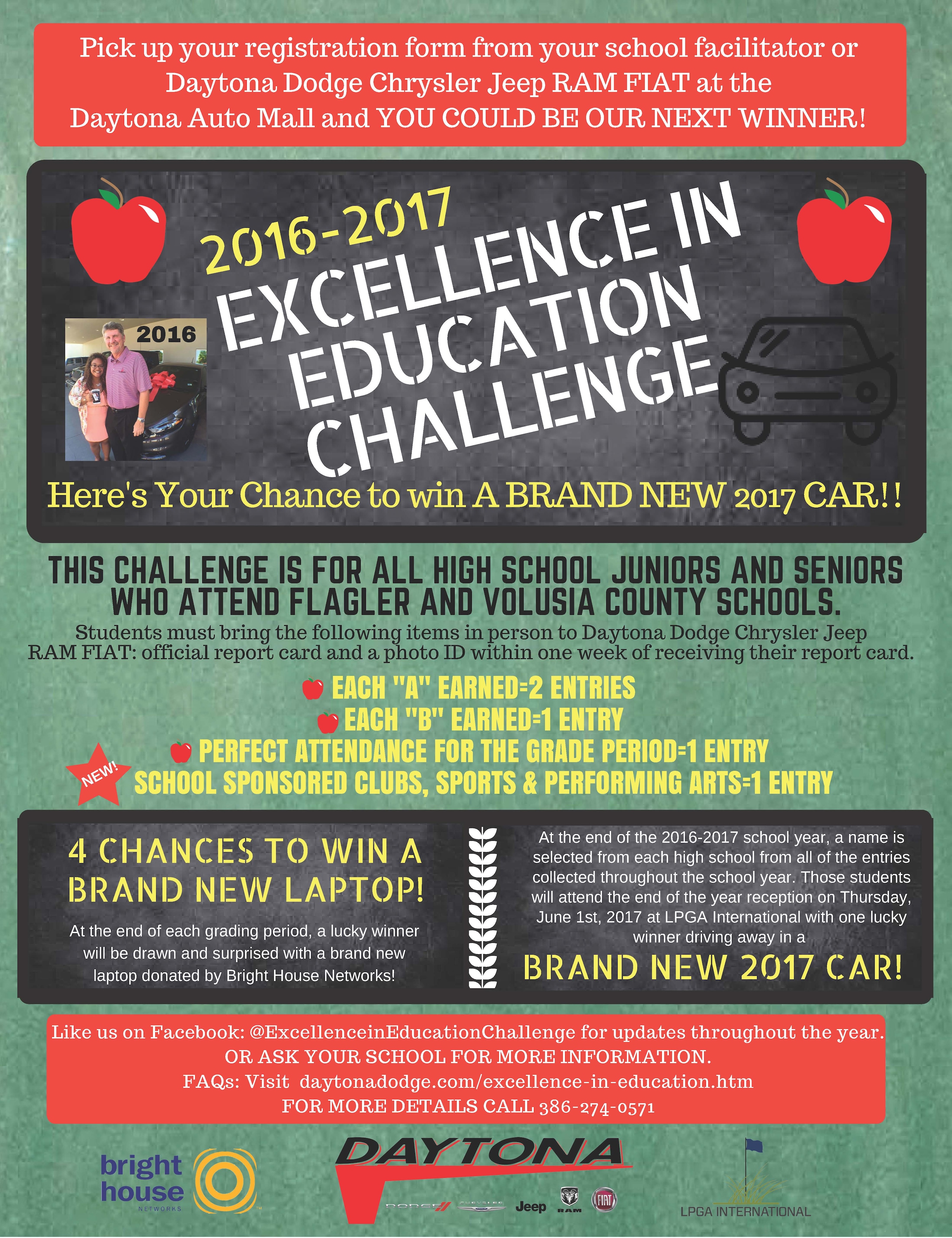 9th Annual "Excellence in Education Challenge"
Daytona Dodge Chrysler Jeep RAM FIAT and Bright House Networks are teaming together to bring you this incentive based program targeting high school junior and seniors throughout the school year!
The program recognizes good grades, attendance & school sponsored activities.
Students must bring their official report card and a photo ID (student must be present to enter) to Daytona Dodge by the close of business on the registration deadline dates.
Who is Eligible?
All High School Juniors and Seniors (16 years and older by 06/2017)
From Volusia & Flagler Countiesand Public & Private High Schools
At the end of designated grading periods, students will have the opportunity to register forthe drawings as follows:
Each "A" earned = 2 entries
Each "B" earned = 1 entry
Perfect attendance for the grade period = 1 entry
School Sponsored Activities= 1 entry
At the end of each grading period, registered students will have a chance to win a new Laptop Computer. This student will identify the teacher from his/her school who has had the most influence on him/her and that teacher will win a dinner for four (4)
At the end of the 2016-2017 school year, one student will drive away in a brand new 2017 vehicle!
Please see your school for official rules.
LIKE THE EXCELLENCE IN EDUCATION CHALLENGE FACEBOOK PAGE FOR UPDATES, PICTURES & VIDEOS THROUGHOUT THE YEAR!

"Excellence in Education Challenge"
Daytona Dodge Chrysler Jeep RAM FIAT
and Bright House Networks
1450N. Tomoka Farms Road, Daytona Beach 32124
(386) 274-0571 ext: 210