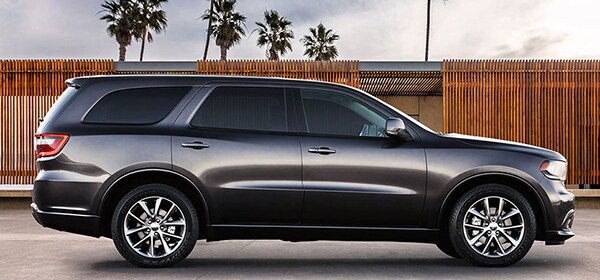 New Inventory | Apply For Financing
The Updated, Powerful, and Efficient 2014 Dodge Durango
Power and efficiency aren't often used in the same sentence - but that's changing with the release of the revamped 2014 Dodge Durango. This year, the Durango features best-in-class power, thanks to its V6, plus best-in-class fuel economy. The 2014 Dodge Durango boasts a 25 highway MPG rating, with a standard towing capacity of 6,200 pounds. Not to mention, inside and out, drivers will benefit from the Durango's serious technology and luxury details.
At Daytona Chrysler Dodge Jeep Ram, we carry a variety of 2014 Dodge Durango packages that offer drivers plenty to be excited about. Stop in today at our Daytona Beach location - we're just a short drive from DeLand and Palm Coast, FL - and our expert sales team can show you the ins and outs of this engineering marvel. Bottom line, the 2014 Dodge Durango is a beast of an SUV.
All New Dodge Durango Specs
3.6-liter PENTASTAR V6 engine, or available 5.7-liter HEMI V8         
Best-in-class fuel efficiency: 25 highway MPG rating         
All-star safety features including smart brakes, emergency roadside support and adaptive cruise control         
Loads of cargo space, 7 passengers, 50 different seating/storage configurations         
Towing capacity of up to 6,200 pounds (V6), or 7,500 pounds (V8
Best-in-Class Power, World-class Smart Technology
Dodge trucks and SUVs are known for their power - and that's no different with the Durango. In fact, the power behind the wheel of the 2014 Dodge Durango has been rated best-in-class. The standard V6, 295-horsepower engine has a carrying capacity of 6,200 pounds to haul all your toys on weekend adventures, or you can upgrade to the   world-famous Dodge HEMI V8.       
But outside of the Durango's all-star power, there are plenty of other performance details worth noticing.   For instance, this year's model comes with an 8-speed automatic transmission that provides quick acceleration, smooth-as-butter shifting   and best-in-class fuel economy. Truth is, there isn't much the Durango doesn't offer in terms of performance. Other features include:         
A 600-mile range between fill-ups         
Available 350-horsepower         
Optional All Wheel Drive         
And Variable Valve Timing for maximum performance
You can't truly comprehend all that power until you're behind the wheel.   Stop in at Daytona Dodge today and take one of these power wagons out   for a spin. Our dealership is conveniently located in Daytona Beach, just around the corner from DeLand and Palm Coast, FL. Or don't hesitate   give our sales staff a call today at 888-563-4261.
Inside the 2014 Dodge Durango: Comfort and Luxury with Loads of Cargo Space
Inside   the all new Dodge Durango, there are plenty of luxury details to satisfy every driver. For instance, the sleek, modern dash features a variety of state-of-the-art controls, including an available 8.4-inch touchscreen display and a 7-inch LCD display behind the wheel that shows up-to-the-second fuel economy data, warning messages and trip information.
Another updated feature is the Durango's all-new heated steering wheel, which puts audio settings, dash controls, and   cruise control right at the driver's fingertips.
Not to mention,   there's more than enough room inside. For instance, this full-sized   crossover SUV can accommodate 7 passengers, but for larger hauling jobs, there are more than 50 seating configurations to open up plenty of cargo space. Other interior features include:       
84.5 cubic square feet of available cargo space         
Available leather trim seating         
Folding second- and third-row seating         
CD/AM/FM stereo with USB compatibility   
At Daytona Dodge, we carry the full line of the 2014 Dodge Durango. If you're in DeLand or Palm Coast, we're your local Dodge dealership. You can check out the full line of the Durango today and see all those luxury details upclose.
All-Star Safety Ratings: Maximum Protection
There   are some serious technological advances in the all-new 2014 Dodge Durango - making this one of the safest crossover SUVs on the road. It starts with a variety of sensor technology to keep you safe while driving, including Adaptive Cruise Control, a Forward Collision Warning System and available back-up sensors. The Adaptive Cruise Control monitors the road ahead, and when the system senses another vehicle, it   automatically slows down. The Forward Collision Warning System works in a   similar fashion, alerting the driver of approaching vehicles ahead.
In addition, the standard safety features in the Durango provide maximum protection. The 2014 Durango features front, side and curtain airbags, as well as electronic stability control. These are just some of the   reasons the 2014 Dodge Durango features one of the best safety ratings   in the class. Other features include:      
Available Blind-Spot Monitoring        
An advanced braking system that removes water from the brake pads         
Available UConnect emergency roadside assistance         
Automatic wiper technology
There isn't a better place in Central Florida to buy a 2014 Dodge Durango than Daytona Dodge. We're one of Daytona Beach's favorite car  dealerships, and we're conveniently located near DeLand and Palm Coast.  Check out our financing specials online or give our sales staff a call today to find out everything you need to know about the 2014 Dodge Durango.