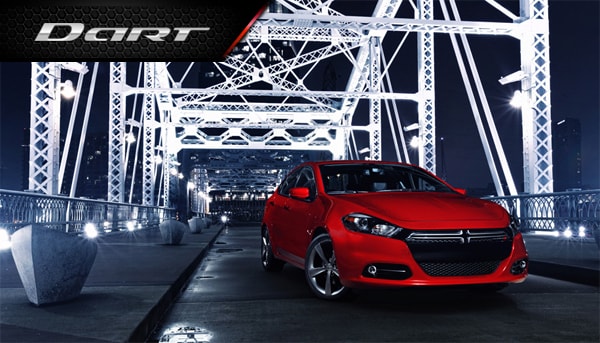 Design

Daytona Dodge Chrysler Jeep Ram of Daytona Beach, Florida
Here in Daytona Beach, FL, we pride ourselves on the fact that if you're a native or a tourist, there's always something fun to do. And when we see someone driving their 2013 Dodge Dart in Daytona Beach, we know they're already having fun. How can you not enjoy driving the most technologically advanced mid-size sedan in its class?  With unmatched versatility, drivability and all-around coolness factor, the Dodge Dart is, in a word, fun. It's even fun to say, "Dodge Dart."  Clever name aside, the Dart is more than just an ordinary means of transportation; it's a state of mind. And Daytona Dodge Chrysler Jeep Ram is the best place to find the widest selection of this state of mind known as the Dodge Dart.

2013 Dodge Dart - Daytona Beach FL
Starting with the state-of-the-art powertrain, the Dart boasts either a 2.0 liter TigerShark MultiAir Engine that gets 36 miles per gallon (highway), or a 1.4 liter MultiAir engine that gets up to 41 miles per gallon on the highway. Either way, this translates to spending the change you found under the couch cushion on gas to take your 2013 Dodge Dart to Palm Coast. Of course, you'll still have the available power to pass the tourists as you go.
The interior is just as impressive with its intuitive design, digital dash and Uconnect touch-screen technology. These features and more are the reason the Dodge Dart is the most award-winning vehicle in its class.

Dodge Dart Features
TigerShark 16-valve 2.0 liter engine
6-speed manual transmission
Rear stabilizing bar
6-way manual passenger seat adjust
Black cloth seats
Chrome interior door handles
Solar Control Glass
Uconnect 200 AM / FM / CD / MP3 player
16-inch steel wheels with cover
205 / 55R16 all-season tires
15,8 gallon fuel tank
Variable intermittent windshield wipers

Dodge Dart Safety Features
While it's easy to see why the Dart is so fun to drive, that doesn't in any way take away the security of Dodge's legendary safety features, which include: Advanced multistage air bags, all speed traction control, electronic roll mitigation, electronic stability control and supplemental front seat mounted side airbags, rear seat side airbags and side curtain front and rear airbags. Just because surfing at Ormond Beach can be risky, doesn't mean driving your Dart Dodge to Ormond Beach should be.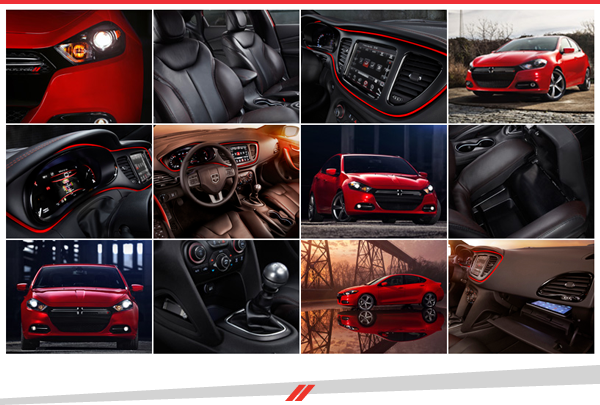 The Dodge Dart Board
The Dart is one of the most satisfying cars to experience, which is just another way of saying the Dart is super-fun to drive. If you have to head north in your Dodge Dart to Port Orange for a small get together with your family, it will always be a memorable trip. We even surmise that you may head south in your Dodge Dart to DeLand for no reason at all, except to keep on driving. That's what driving fun is all about.
With six different models to choose from, Daytona Dodge Chrysler Jeep Ram is the premier place to find the 2013 Dodge Dart you're looking for. Visit our website to fill out a finance application, find directions to the dealership, or check out our inventory of new and used vehicles.  Don't forget to view our vehicle incentives which we constantly update to save our customers money. Remember, life can be trick sometimes, but there's no reason your drive there can't be fun.